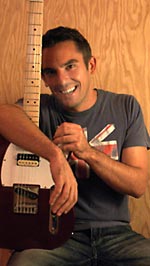 James Browne
Electric & Acoustic Guitar/Background Vocals
Hailing from Seattle, guitarist James Browne is a new and exciting addition to Jon's band. James picked up his axe as a kid in 1989 along with a substantial 80's rock influence. After mimicking the sounds of Eddie Van Halen and absorbing the new sounds of Pearl Jam, Nirvana, Matchbox 20 and others during the 90's, James was approached with his first opportunity to tour.
Longtime friends Aaron Spiro and Carlo Furlan from the Christian band IAMIAM recorded Kickin' The Sky in Los Angeles with session ace Tim Pierce featured on guitar. Shortly thereafter, IAMAM returned to Seattle in search for someone to fill the guitarist slot. James was asked to join the band and got to immerse himself learning Tim's parts on the songs. This led to a two-year stint with IAMIAM. This also led James to delve into the world of great session players such as Dann Huff and Michael Landau. James spent the next year perfecting Tim's parts, while continuing to study his work on various other recordings.
Thirsting for more, James moved to Los Angeles in 2000 and attended the Musicians Institute where he was a protege to Allen Hinds and Scott Parker, both having a significant influence. James then acquired an internship with producer Derek Nakamoto, who mentored him into recording various demos and soundtracks. While continuing to reside in L.A., James played on the Oasis Christian Center's immensely talented house band full-time for the next five years where he honed his R&B chops and served as a musical director. Playing at Oasis led to two live recordings. The first of the two albums, Oasis Praise Bring It On, was released in 2003 through Warner/Word and the second, The Greatest Love, released in 2004.
Since then, James has found himself working with players in the industry and recording on demos and playing showcases. Now James is both pleased and proud to be a part of Jon's band as he looks forward to playing both live and in studio , whereby all of his veritable skillsets and atmospheric talents can be put to good use.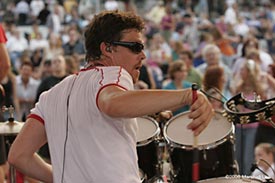 Dave Allen
Drums & Percussion
In his time in the U.S. after moving from Australia, Dave has worked with many artists including Michelle Branch, Avril Lavigne, Leonard Cohen and Bret Michaels. He appeared on two of Michelle's music videos that went to 1 on MTV's TRL (Total Request Live). His other TV appearances include performing live on Jay Leno, Conan O'Brien, Rosie O'Donnell, Good Morning America, Britain's Top of the Pops, the Pepsi Chart Challenge and European MTV. In addition, Dave has toured and recorded with Judith Owen, playing at times with her husband on bass, Harry Shearer (The Simpsons) and Dereck Smalls from Spinal Tap. Dave also recorded drums on the title track for Harry Shearer's debut film, The Teddy Bear's Picnic.
Recently, Dave has been focusing his energies on studio work and live shows in Los Angeles. He has recorded songs for numerous artists, including Will Dailey, PJ Olsson and Karmina (CBS Records). Mandi Perkins and Anjani (Sony/BMG). Independent artists, Donna Delory (Madonna's long time back up singer), The band BROTHER, Jimmy McGorman, Manda Mosher, Dave Dale, Rick Ellis, and Randy Coleman, amongst others.
Dave has also recorded drums on songs that have been placed on the new Beverly Hills, 90210; Buffy the Vampire Slayer; Smallville; One Tree Hill and Bret Michaels' Rock of Love. In addition, Dave has movie soundtrack credits on The Power Rangers, Me, Myself and Irene with Jim Carey and academy award nominated Crash. Dave's drum samples and loops have been heard on MTV's Jack Ass produced by Goldo and PBS's Curious George, the cartoons composed by Nick Nolan. He has also recorded drum cues for the Independent film network's comedy, The Whitest Kids You Know produced by Guy Erez.
Dave says his career highs to date are, opening up for The Who at the Hollywood Bowl with artist Randy Coleman and having breakfast with actor/comedian Steve Martin in Aspen, CO at the Aspen , HBO Comedy Festival where Dave had been playing.
"I'm excited to be playing with Jon Dowling and the Band. Jon's lyrics are positive and heart felt, which at this time in the music industry is rare. He also provides a solid musical foundation with his tasteful, soulful piano playing. There's some fantastic music happening here and I look forward to rehearsing it up and performing it for you all. Stay tuned…. "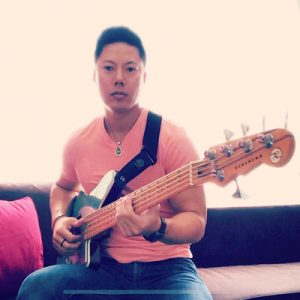 Takashi Iio
Bass (Electric) / Bass (Upright)
Takashi is an elaciously talented artist and bassist. Born in Japan and emigrated to Detroit Michigan from the tender age of three, Takashi laid down roots and Detroit was never the same. Under the watchful eye and tutelage of legendary bassist JV Collier, who has toured with the likes of the Temptations, The Fifth Dimension, Bruce Hornsby and many others, Takashi has blossomed into one of Detroit's most sought after bass players and was names Detroit's Jazz artist of the year, two years consecutively. He can be seen around town when he's playing locally with one of Detroit's most respected cover bands, called your generation.
Takashi brings a level of talent, professionalism and humanity, that is rare to find among artists today. His level of humility throughout the process has served him well. He has been a fixture in Jon's band since 2009 and has served as the heart beat and the backbone of the band ever since. His sophisticated level of playing, incorporating Jazz, Funk, Latin and Rock amongst other styles fits beautifully into the tapestry of both the music and the band respectively.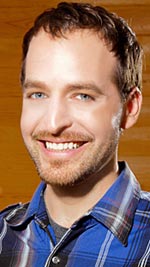 Mark Henkin
Background Vocals
A native of Austin, Texas, Mark began training and singing classical music at the age of eleven. Performing in the touring ensemble of the Texas Boys choir as a child gave Mark the unique perspective of life on the road as a singer. Throughout his young life Mark was an accomplished chorister, allowing him the privilege to sing with dozens of accomplished choirs and opera companies in many top music venues in the US and internationally. His passion for singing got him accepted into the prestigious North Carolina School of the Arts in Opera Performance where, during his time there, he discovered his passion for writing music. Mark transferred to Florida State University where he gained a Bachelor's degree in Music Composition and a Master's in Arts Administration.
Following his undergraduate studies, Mark developed a keen entrepreneurial spirit, founding and operating his own recording studio and media duplication companies. This has led to careers in sound engineering, audio visual design, and performance over the past 20 years with prestigious globally recognized brands. Currently based in Los Angeles, Mark is thrilled to be a part of Jon Dowling's band "Jon's musical sensibility and lyrics connect with me because they are real. I am grateful to be working with an artist like Jon because he is striving to be himself, wearing his integrity on the outside, promoting a positive message."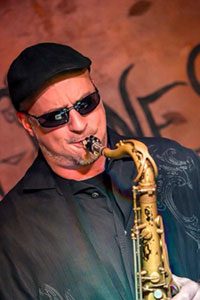 Jason Moynihan
Lead/Background Vocals
Jason Moynihan (Jay) has been a performing musician for over 25 years (Saxophone, Guitar, Keys). He has recorded with over 50+ artists, and has toured the globe with legendary, 6 time Grammy award winner, and Rock & Roll Hall Of Fame member, MR. Buddy Guy. While with Guy, he has played with the likes of Carlos Santana, John Mayer, BB King, Robert Plant, Warren Haynes, Dr. John, Kid Rock, Robert Cray and many others. He also saw a late night TV action on The Tonight Show with Jay Leno, Craig Ferguson Show, Jimmy Kimmel, Jools Holland (UK). He is a founding member of a jazz quartet in Chicago, Illinois called The BMR4, which has been touring and gigging for over 15 years. One of Jason's latest projects is a blues/rock group called The Chicago Blues Connection out of Buffalo/ Niagara Falls, NY. Jason is very excited about adding his energy and sound to this great project, with long time friend Jon Dowling. Filled with great writing and energy, these to make a dynamic duo.
Cliff Young
Lead Trumpet and Vocals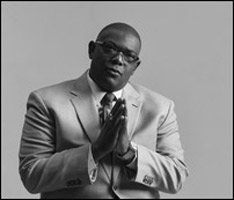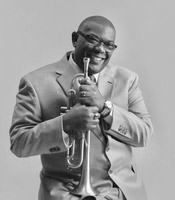 Cliff was raised in Los Angeles. As a young man he showed great interest in church music and jazz. Before entering college, he traveled with the University of Southern California touring Europe playing jazz music. Cliff was accepted to the Thornton School of Music at the University of Southern California and graduated with a Bachelors of Music in Music Education and trumpet performance. He later received a Master of Music Education from the same institution.
Cliff taught music in Garden Grove, Los Angeles, and Torrance School Districts for a total of 12 years. He also served as Choir Director and Audio Visual Director at Calvary Chapel South Bay in Gardena, California. It was at Calvary Chapel that Cliff decided to change careers to be in ministry full-time. This passion was developed in the counseling rooms of the church.
Cliff was later accepted into the Clinical Psychology program at Pepperdine Graduate School of Education and Psychology and graduated with a Masters of Arts in Clinical Psychology. He later received his ministerial license and was ordained in July, 2017 by International Assemblies of the First Born, Inc. Cliff received a Master of Divinity from Azusa Pacific University in 2021. He is currently the lead pastor at New Hope Christian Center in Lomita, CA.
Cliff resides in Southern California with his wife Robin, and their two children.